By Malie Hudson

GRAND TERRACE—Hundreds of youth from across the Diocese enthusiastically gathered at St. Junipero Serra House of Formation in Grand Terrace on October 14 to celebrate Bishop Gerald Barnes' 25th Episcopal Anniversary. 
 "This is a day when young people from all over the Diocese are going to come and celebrate with him. Celebrate that he is the longest standing bishop [in one diocese] in the U.S. They are going to be spending time with him and also reflect on their vocation, their call," said Edgardo Juarez, Director of the Diocesan Ministry with Young Catholics. 
 Youth and young adult Catholics bonded with each other through prayer, music and worship and also participated in several activities throughout the day, including a game of Seminarian Bingo where youth asked Diocesan seminarians questions in order to win points.  The event was themed on Bishop Barnes' episcopal motto, Amar Es  Entregarse ("Love is the total giving of one's self").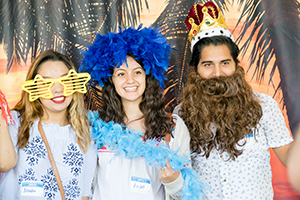 Also among the festivities was a unique opportunity to learn more about Bishop Barnes, personally and spiritually, through two highlights of the event – "Bishop Barnes' Walk with Jesus" and a question and answer session. The youth listened intently as Bishop Barnes described his journey to becoming a priest and a bishop. 
 "The Lord calls and invites using different kinds of ways – friends, announcements, prayer, retreats, social media, He calls us. So I was called way, way, way, way, way, way back then," said Bishop Barnes. 
 "I was living in a very difficult time when I was your age. High school, early college was a very, very difficult time in this country. We have our difficulties today. It was kind of bad back then. People were afraid, there was stress because of the threat of nuclear war. There was a lot of upheaval in society. It was difficult to trust other people. People were living in fear and in that setting, I, in some way, heard God calling. 
 "I was living in an extremely difficult time in this country. And the Church was going through a lot of changes. Big changes were taking place in society and I was a teenager and I became a young adult during those years. And in some way, in that chaos, in that renewal, I heard God call me. In some way, I needed to do something. Other people hear that call in the deep sense of a prayerful retreat. Some hear it in music. Some hear it in a friend. The Lord calls in so many different ways. My calling came basically because of how we were living in society and I felt God was calling me to do something. To bring His word of hope, to bring His word that all people were loved, to bring His word of peace, His word of respect."
 So he applied to the seminary. He said that he wasn't accepted that first time and realized that his relationship with God needed to be deepened even more. 
 "In every good and deep relationship, there are times of testing," said Bishop Barnes. 
 He made other plans to study education and graduate from college but said he knew that his calling to the priesthood still remained. So he applied to the seminary a second time and was accepted. 
 "But, the testing wasn't over. I went to seminary, had to leave California. Went to the Midwest and then Ohio and a year before I was to be ordained a priest, I was kicked out. What do I do then? The testing continued," he said. 
 Those who knew him tried to comfort him but he said that his relationship with God grew even stronger from that point on because he felt that God understood his circumstances.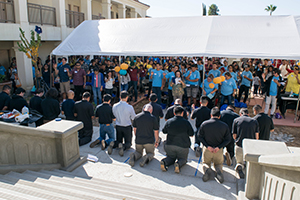 "See, I have a problem, and I still have it today; I ask questions," Bishop Barnes said. "Sometimes when you ask people questions who are in authority, the person, whether a family member, in government, in education, sometimes they interpret that as being disrespectful. In the Church at that time, you didn't question authority so I was seen as kind of a rebel. But my relationship with God got stronger because I kept questioning him," he explained. 
 His personal story connected with many of the youth and seminarians in attendance that day. 
 "The two things that surprised me was his parents' reaction and that he was kicked out of seminary," said Seminarian Anthony Ribaya. "The first one hit home because my parents also had struggled when I told them that I felt I was being called. Eventually my parents began to accept it and realize that it was a calling from God and that I had to follow. To hear that his parents struggled, too, just really connected with me."
 Vanessa Hernandez, a youth from UC Riverside and St. Andrew's Newman Center Catholic Student Fellowship ministry, was also inspired by the Bishop's words. 
 "The fact that he didn't give up through his journey of finding his vocation like going through the seminary and being held back and then brought back, he kept going,," she said. "He knew that his calling was there and regardless of all the obstacles he faced he kept going through God's plan, even with people telling him to find an alternative or a different plan for his life, regardless of that, he knew that God wanted him to become a priest and if he had never listened to that call then he wouldn't be the amazing bishop we have today." 
 A friend and fellow youth from the same ministry, Analidia Santiago, also felt encouraged by his story. 
 "He was inspirational," she said. "Sometimes it feels like the world is against us but through God we find our calling and follow His word." 
 Throughout the morning, youth were asked to write a question on a card that they would like the Bishop to answer during the Q&A session. The question cards were randomly chosen during the session and covered a variety of topics such as how to make time to pray, his most difficult moment as a bishop, his favorite TV show, favorite ice cream and if he's ever had a crush. The Bishop revealed that his favorite ice cream is butter pecan and he enjoys watching television comedies like Cheers and Everybody Loves Raymond. 
 "It makes me laugh," he admits. 
 Sister Sarah Shrewsbury, OSC, Diocesan Director of Vocations, also attended the celebration and helped to coordinate a surprise gift from the youth to the Bishop. Throughout the day, youth were encouraged to participate in creating the surprise gift. 
 "It will be given to him at the closing Mass of his anniversary which is December 20," she explained. "The gift will be a reminder of the youth and the idea of service."
 Other highlights of the event included "A Vocation Story" skit performed by a youth ministry from Riverside and a gallery exhibit that displayed posters and banners showing how the youth have been living out the Bishop's episcopal motto. Bishop Barnes toured the gallery while each youth group from various parishes explained their meaning to him. Some of the exhibits in the gallery included the youth of one parish helping their community fight against underage drinking through education. Another group showed their work with the homeless and how they were able to collect blankets and other basic necessities to distribute during the winter. 
 Father Jorge Garcia, Rector of Serra House, was pleased to host the event and have several men in the seminary present to celebrate with the youth and Bishop Barnes. Near the close of the day attendees offered a prayer and blessing of the seminarians present
 "We have 35 seminarians for our Diocese, we are so blessed. So you have a very unique opportunity to meet the seminarians who are here and talk to them," said Fr.  Garcia. "This is the opportunity for our youth, our Diocese, our seminarians to celebrate his ministry."
---
 Malie Hudson is a freelance writer based in Riverside.