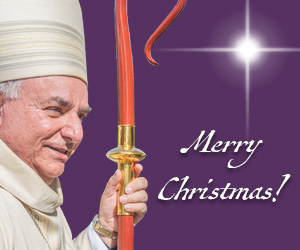 Brothers and Sisters in Christ,
   I offer you my most heartfelt and prayerful blessings as we celebrate the Nativity of our Lord Jesus Christ. Let us carry in our hearts the incomparable joy that was felt in our world when the Word became flesh, and dwelt among us. Let us allow the Spirit of the Season to help us strengthen our bonds with family, friends and community members, and bring us to reconciliation with those from whom we are estranged. Let us take our rest from the busyness of our schedules, leaving room to contemplate the true meaning of gift, and of Christmas. And let us remember, too, the humble circumstances though which our Lord came into this world. How does this speak to us in how we view the meek and mild in our midst, and how we treat them?
   May God bless you and your family in this Holy Season and fill your life with hope. God is with us! Emmanuel.
Bishop Gerald R. Barnes