Community Prayer Vigils offer prayer and support to family and friends of murder victims

By Natalie Romano

 On a cold rainy night in January, mourners gather outside an Ontario convenience store. They circle around the urn of a 16 year old that was recently stabbed to death on the very spot where they now stand. His mother and friends wear solemn faces as a priest leads them in prayer and song.
 Similar scenes are taking place throughout the Diocese of San Bernardino when a life is lost to homicide.
 It's a coordinated effort by the Office of Restorative Justice to bring a measure of peace and healing in the aftermath of a murder. Leaders explain that these Community Prayer Vigils are done in a "taking it to the streets" style; held in the open and open to all.
 "Honestly, I see God's hand just reaching out," says Anna Hamilton, Associate Director of the Office of Restorative Justice. "The families who have been coming are so touched, so grateful that we're here and they don't have to go through this alone."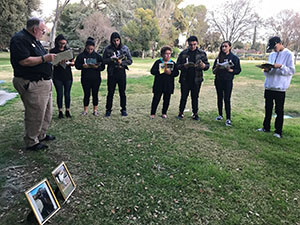 Families like those of Santos Bonilla, who died after being shot in Redlands on January 14th. Police say the 47-year-old immigrant from El Salvador was gunned down in Sylvan Park. That's where loved ones gathered and displayed his photos.
 "I think he's up in heaven very, very proud that this vigil happened. I think it would give him great joy to see how important he really was," says relative Marshy Naranjo.
 Bonilla leaves behind two children. His oldest son, Richard, worked in his father's landscaping business and says they shared a tight bond.
 "When he would see a big statue and little statue that were identical, he would always say in Spanish 'Oh look, there's the nino and papa, like us,' " recalls Richard Bonilla as he wipes tears from eyes.
 To ease that grief, survivors like Richard are offered a 10-step support program called "The Journey."
 "We let the people come to us where they are in their grief," says Hamilton. "If they come at us angry, we take them angry. If they come at us with shock and numbness, we take them with shock and numbness. Through the program, we guide them on a healing path."
 Clergy nearest to the murder site typically preside over the vigil. For the Bonilla service, that meant Deacon Mike Bellinder from The Holy Name of Jesus parish. Dcn. Bellinder is no stranger to violence himself; he was shot during a workplace robbery 22 years ago. 
 "I know it hurts and hurts and hurts some more. So my door is always open to you," Deacon Bellinder told mourners. 
 "Healing will come in your time and God's time."
 All Community Prayer Vigils include an opportunity for mourners to pray, sing, share and light a candle. Father Rogelio Gonzalez says the latter is an important symbolic act.
 "As you see it's getting dark outside but the candle gives us light," declares Father Rogelio, Administrator of Our Lady of the Assumption Parish, San Bernardino. "This is a sign of everything that's happening in our community. There's violence around us but we come together and say we're not going to be intimidated."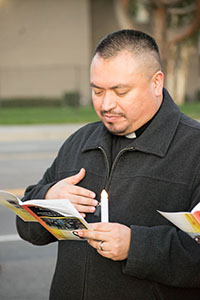 Fr. Rogelio led the January 11 vigil for San Bernardino County Deputy Lawrence Falce of San Bernardino. Authorities say Falce was off-duty when he was punched during a traffic dispute. The 70 year old died the next day. Relatives remembered him as a hard-working, humble man.
 "He would say 'all this was unnecessary. I don't deserve this,' " says his sister, Marjorie Falce-Jorgensen.
 But she feels otherwise.
 "He was a dedicated Catholic and an Aquinas High School graduate. Since this was a Catholic prayer service in honor of my brother, I wanted to be here."
 Catholic or not, sinner or saint, it makes no difference to Hamilton. She says the vigils are for "all God's children" and she stays in contact with authorities so that no opportunity to mourn a murder victim is missed. She then informs the closest parish about the vigil, ideally held within weeks of the homicide. Announcements are made during Mass but the word often spreads. At Falce's vigil, even a passerby picked up a candle and prayed. Hamilton says that's not uncommon.
 "Sometimes they just show up. If you get a minute with them, you'll find out they might have lost someone and it's hard on them. This gives them a chance to stop and pause and remember their loved one too." 
 The healing community presence of the local Church could change hearts and minds, Father Rogelio suggests. In the wake of the sexual abuse crisis, he says, now, the most visible symbol of priesthood can be a double-edged sword.
 "In its origins, the collar is supposed to be a sign of hope. Unfortunately, because of incidents in the past, we've been questioned on that. We need to recover that."
 He went on to say, "little by little people hopefully are seeing us and thinking 'Oh there's a priest there and he's praying with people in the street.' And maybe that inspires them to go back to church, go back to prayer, have more confidence in our faith."
 Ministry members also feel the weight of the work. At press time, the Office of Restorative Justice had coordinated 33 vigils since beginning them last October. In one week alone, they hosted six. 
 "You go home exhausted," Hamilton admits. "It's because you felt the emotion."
 But there is an upside. The families also keep the ministry motivated with their gratitude.
 "I thought it was really beautiful that everyone came out and did this especially for a victim of murder," says Aunie Rodriguez, Richard Bonilla's girlfriend. "It means a lot that there's a whole support system."
 That's the whole idea, says Deacon Bellinder.
 "The bottom line - we're replacing violence with love."