By John Andrews
Editor

GRAND TERRACE—Father Jose Sanz, DLP, who saw the diocesan seminarian program through a period of substantial growth and modernization in 21 years as Rector of St. Junipero House of Formation, has left the position but will remain there in a teaching capacity.

 Father Jorge Garcia, Vice Rector of Serra House since 2012, has been named the new Rector. The change becomes official on May 8.
 "The [seminarian] program has developed. It has become solid," said Fr. Sanz, a member of the Diocesan Labor Priests religious community. "I thought it was time for someone else to take care of things."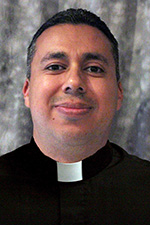 Fr. Garcia, ordained a priest in 2008, is the youngest rector in the history of Serra House. Having been mentored by Fr. Sanz for five years, he says he is humbled but ready to take the reins of the seminarian program.
 "I never thought in my life that I'd be going back to the seminary but here I am," Fr. Garcia quipped. "It's a privilege that the Bishop has appointed me to be the rector."
 The rector of a seminary oversees the ongoing formation of seminarians, evaluates their progress and, in consultation with the Diocesan Bishop, makes recommendations for Ordination.
 Both Fr. Garcia and Fr. Sanz noted that Fr. Garcia is uniquely qualified to be rector because of his experience as both a student and teacher at Serra House.
 "He's been educated in the program and he has been directing the program," Fr. Sanz said. "It seems natural.
 Said Fr. Garcia, "it gives me a good perspective of how we can better prepare seminarians to work in this Diocese."
 While he will no longer run the seminary, Fr. Sanz will stay on as an Academic Dean, heading up the Philosophy Studies program at Serra House. The Diocese has been partnering with Holy Apostles College and Seminary in Connecticut to provide diocesan seminarians with pre-philosophy coursework on-line since 2015. Fr. Sanz said he will provide "sessions of formation" at Serra House to supplement the on-line program.
 "Philosophy is not a series of beautiful ideas that have appeared in history," he says. "It is a matter of forming yourself – why are you here in this world?
 "That connection is usually not done."
 While taking over as rector, Fr. Garcia will continue to work directly with the seminarians at Serra House in the area of human formation, which explores issues of personal identity, sexuality and self-care. 
 "When we know ourselves better it helps us relate better to God and to others," he said, adding that there will be greater emphasis on human formation under his leadership. 
 Diocesan leaders observe that the seminarian program has made significant advances since Fr. Sanz became Rector in 1996. That year, there were five seminarians in the Diocese and Serra House was at a cramped convent near Riverside City College. 
 In 2005, Serra House moved to a brand new, five-acre campus in the foothills of Grand Terrace with 30,000 square feet of classroom and living space. "There's no excuse to say, 'I cannot pray, it's too noisy," Fr. Sanz says with a laugh, describing the serene atmosphere of the campus.
 In the past decade plus, Serra House has seen an impressive increase in the number of seminarians. Today there are 39 seminarians.
 Bishop Barnes is honoring Fr. Sanz this year with the Amar Es Entregarse Award, given to one who exemplifies the Bishop's Episcopal Motto, "love is the total giving of one's self." Monsignor Gerard Lopez, STL, Vicar General of the Diocese, says Fr. Sanz's ability to integrate international seminarians into the Diocesan program has been a key to the growth. 
 "He's left a lasting legacy and you can tell it in our priests," Msgr. Lopez said. "The priests that went through his program are very balanced."
 Serra House received a boost in 2016 when Auxiliary Bishop Emeritus Rutilio del Riego elected to devote his retirement ministry to running the Pastoral Formation program at the seminary.
 For his part, Fr. Sanz says he has also worked to forge a connection between the seminary and its neighbor, Christ the Redeemer Parish. As a Christmas offering to parishioners there in recent years, he has written books – one on St. Junipero Serra, and another on vocational testimony of St. Paul – and provided copies for everyone.
 Fr. Garcia agrees that making connections between the seminarians and the faith communities of the Diocese is important and says he will strengthen those ties and form new ones as rector.
 As for other priorities, Fr. Garcia, an avid sports fan, recalls from his seminarian days at Serra House the value of playing recreational sports and is signaling a return to that regimen.
 "Maybe once a week, mandatory," he says with a smile.