By Malie Hudson

 On May 20, Bishop Gerald Barnes will ordain four men to the priesthood.

 In the March issue of the BYTE we chronicled the journeys to the priesthood of seminarians Fidel Rivero and Alwyn Anfone. In part two, we introduce Alex Rodarte and Juan Sandoval. Both men took meaningful steps to pursue their vocation after experiencing a calling to the priesthood in their 20's.
Alex Rodarte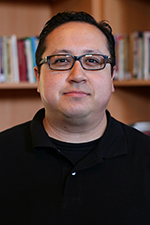 Alex Rodarte entered the seminary at age 25, the same year he received the Sacrament of Confirmation.
 Although baptized Catholic as a child, he and his family weren't actively involved in the Church.  
 "I didn't practice the Catholic faith growing up and never thought about joining the priesthood when I was growing up either," said Rodarte. "It never really entered my mind."
 Rodarte grew up in Rialto. He attended Rialto High School and graduated in 2000. After graduation, he worked for a family business selling cars. 
 When he was off work, he said he "loved going to parties and concerts. I wasn't really leading a great lifestyle."
 He didn't expect that his path in life was about to shift. 
 Rodarte's father went on a vacation to visit family in Mexico and while there, had a stroke. 
 "It was a scary time for our family. We were all here and he couldn't fly back," he recalls. "At that time, praying to God was a last resort that I could think of to help my dad. I prayed that if my dad got better I'd go back to Mass and start doing whatever I had to do."
 He felt God had answered his prayers so at age 23, Rodarte kept his promise and joined St. Catherine of Sienna Parish in Rialto. He started going to Mass and signed up to the Right of Christian Initiation for Adults (RCIA) program to receive his Sacraments. 
 "I bought a little kids book about the lives of the saints and I just started reading the life of St. Monica and St. Augustine," he said. "I thought, well, what am I going to do with my life now that I'm a Christian? I need to do something at my parish – a reader or maybe a Eucharistic Minister or something. And I just heard the words of the Holy Spirit say that you are going to be a priest." 
 He says his calling to the priesthood was strong, certain and clear. 
 "Since then I just had this purpose that I can't really explain," he said. "It feels like a mission I have to do and that's when I started to discern with a priest." 
 The Diocese sent him to Loyola University in Chicago where he received his Bachelor's Degree in Philosophy. He was assigned to St. Joseph College Seminary in Chicago for his formation. 
 Before they are ordained, seminarians are assigned to a parish in the Diocese to gain pastoral experience. Rodarte was assigned to serve at St. Catherine of Alexandria Parish in Temecula where he naturally connected with people. 
 "Alex is mature physically and spiritually," said Father Anthony Dao, parish pastor. "One of the requirements I ask of seminarians is to try their best and be visible because our presence speaks something to the people. He always looked around for people in need and approached them. He's not afraid of being with the people." 
 Father Dao added, "I also ask seminarians to try to promote vocations and talk to young people their age. Alex and a group of his friends hosted a day of vocation. I know at least one young man from the parish who wants to join the seminary next year because of it."
 As Rodarte reflects on the last decade of his life in formation, he looks forward to the excitement of ordination day where friends and family, including both parents, will join him to celebrate. 
 "I'm excited to see how God will use me as a priest," he said. 
Juan Sandoval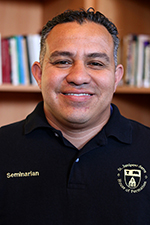 Juan Sandoval always knew that he wanted to be a priest.  He was born and raised in Venezuela. He studied to become a religious priest in his early 20's and did mission work in Latin America. After five years, he decided that a religious order wouldn't be the best fit for him. 
 In 2003, his priority was to provide for his parents and three sisters in Venezuela. So he moved to California to work. He took on several jobs that ranged from being a soccer coach to assembling computers to working for a catering service in order to help his family. Throughout his time working, he continued to feel a strong calling to the priesthood. 
 "I had to discern carefully and obtain spiritual direction and abandon myself to God," he said. "Once I abandoned myself to God I was able to look clearly ahead and decide that this was my calling."
 So in 2009 at the age of 31, he returned to seminary life but this time to study how to become a diocesan priest. The Diocese sent him to Assumption Seminary in San Antonio, and he will complete his theology studies this year at St. John Seminary in Camarillo. 
 In 2015, he was assigned to St. Joseph Parish in Upland where he served his internship. He discovered that some of his hobbies were tools he could use to engage parishioners.   
 "I helped to put together a magic show and we called it the Year of Mercy Magic Show, which was a fundraiser for altar servers," he said. "So since one of my hobbies is magic tricks and I have several friends who are professional magicians who were able to provide a really awesome experience for the altar servers and families."
 Sandoval continued to use more of his talents when he realized the parishioners responded positively. 
 "He did much with the parish, especially with the youth," said Deacon Octavio Echeverria, who serves at St. Joseph. "One time he brought out his guitar, to my surprise, so that he could join in with our youth before and after some of the Masses. That was a gift the youth relished. He was so happy to be playing his guitar and singing with the youth. His playing and singing would attract people. It was better than coffee and donuts!"
 Deacon Echeverria said that Sandoval and his friends put together a CD filled with worship music in Spanish. The proceeds help to raise money for the parish and its youth ministries. 
 Sandoval will miss the brotherhood of the seminary but looks forward to ordination day next month where he hopes he will be able to celebrate with his family from Venezuela. 
---
 Malie Hudson is a freelance writer based in Riverisde.