By Malie Hudson

 It has been almost a decade of intense studying, deep reflection and discernment for four men who have remained focused on one mission—to become a priest in the Diocese of San Bernardino.

 On May 20, Bishop Gerald Barnes will ordain Fidel Rivero, Alwyn Anfone, Juan Sandoval and Alex Rodarte.

 In part one of this article, we introduce two of these seminarians, who have left behind long and prosperous careers to pursue a higher calling. 
Fidel Rivero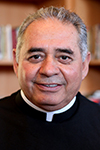 For 25 years, Fidel Rivero had a successful career in real estate. He sold homes across Southern California as a real estate agent and later as a mortgage loan officer. A keen understanding of the business combined with a passion for helping people achieve their first home led him through his long career, which lasted through two recessions. 
 "I enjoyed helping people obtain the American dream," he says. "I usually worked with first time home buyers and that was very satisfying for me to see the joy in their faces when they finally obtained their dream. I think that's when I discovered that I had the vocation for service."
 Born and raised in Puebla, Mexico, Rivero was 18 when he emigrated to the United States. While living in East Los Angeles, he was actively involved in almost all the ministries at Our Lady of Solitude Parish. For three years he served as parish council president and also became involved with the Missionary Servants of the Word, the religious order that lead his parish at the time. Together they worked to create a Spanish language program that was broadcast on Guadalupe Radio. 
 He later moved and bought a spacious home in Barstow. He continued to be just as active at St. Joseph Parish as he had been in Los Angeles. He faithfully attended Mass daily for years and admits he knew that God was calling him. 
 "I think I rejected His call because I thought He was making a mistake with me because of my age. But the call was still there," he said. "Finally one day I decided to answer that call and went to [Father] Charles Patron, the pastor at Barstow when I was there, and inquired about the seminary. He was very happy… and he gave me the paperwork to get started."
 So at age 54, Rivero entered the seminary. 
 "The biggest challenge was to move from a 2,500 square foot house into a single room," he laughs. "It's smaller than my closet in my master bedroom. I had to sell all the things I had in my house or give them away because I didn't have a place for them." 
 The Diocese sent him to Assumption Seminary in San Antonio, Texas. The big life change was somewhat of a shock to some of his family and friends. 
 "The second biggest challenge was to tell my family, and I had to deal with their reaction," he said. "Initially, they thought that I was crazy. They thought it was one of those crazy things people do for six months and then get out. But through the years of formation they began to understand." 
 Before they are ordained, seminarians are assigned to serve in a parish in the Diocese to gain experience. Rivero was assigned to Saint Mother Teresa of Calcutta Church in Winchester. His years of serving as a layman benefitted him during his internship. 
 "He was instrumental in setting up our parish's first Spanish Rite of Christian Initiation for Adults (RCIA) program," said Martha Arriaga, the parish's business manager and an RCIA instructor. "He was actually the catalyst that made it happen after Father [Tom] Burdick agreed to let us go forward with the mission. He saw the need and chose the team and he worked with our deacon, Jose Ibarra." 
 The Spanish RCIA program continues at the parish even after his internship was over and is now in its second year. 
 Now at 61, Rivero looks forward to ordination day and prepares for yet another move. 
 "Since day one, I enjoyed the community here at Assumption Seminary. This is my extended family. I think I gained their respect to the point that they call me 'grandpa' and I don't mind it at all," he laughed. "I think I regret that I didn't answer the call earlier because I could've had more years to serve the people of God. But at the same time, one of the things I bring to the priesthood is the experience of life because of my age. I can understand many of the situations that people will bring forward."
Alwyn Anfone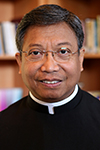 Before he became Seminarian Alwyn Anfone, he was known as Dr. Alwyn Anfone, with an advanced degree in Chemistry. He enjoyed an extensive and interesting career as a college professor and an environmental chemist in Texas before he decided to join the seminary at age 51. 
 Born and raised in Dumaguete City, Philippines, Anfone was always active in the Church even at an early age. 
 "My mom didn't force me to serve, I just loved serving. I'd wake up at 5:30 in the morning as a child and get ready for church," said Anfone. "Some priests would tell me that someday maybe God will make you a priest. We had a good priest in our parish and I said when I grow up I want to be a good priest like him."
 Reflecting on his childhood in the Philippines with his parents and three siblings, Anfone recognizes that there were signs along the way that indicated a call to the priesthood. 
 "My parents brought me up in a very Catholic environment. They taught me prayers and I learned from their actions," he said. "I was just always mystified by the Mass, especially when the bread is raised. My parents said, "that's where God is."
 In 1985, his parents emigrated to the United States, while he remained in the Philippines. A decade later, he moved to San Diego to be closer to them and later decided he wanted to enroll in a Chemistry graduate program. He was accepted to Clemson University in South Carolina where he eventually earned a doctorate in chemistry. 
 During this time, his sister moved their parents into her home in Texas and Anfone moved closer to his family to help with their care. It was during this time that he began to work as a chemistry professor at the University of the Incarnate Word and Alamo Colleges System in San Antonio. After a teaching career, he worked as an environmental chemist at the San Antonio Water System. It seemed like a satisfying career, but Anfone still felt that there was a missing piece.  
 In 2010 he decided he would join the seminary but only after spending a year in discernment and self-discipline. He went to Mass daily and reflected deeply on God's call. 
 "I think it was just me who felt I was afraid to be a priest," he admits. 
 Finally by the next year, he officially entered St. John Seminary in Camarillo, CA. 
 "One of the biggest challenges was being in an environment where there are a lot of young people," he said.
 In spite of the age gap, he said he considered the seminary as the perfect training grounds in preparing him for his future in a parish where he would be serving the people of God of all ages. 
 He served his internship at Sacred Heart Parish and School in Rancho Cucamonga where he was encouraged to contribute his knowledge and experience. 
 "He distinguished himself because of his academic background," said Father Benedict Nwachukwu, V.F., Pastor of Sacred Heart Parish. "He helped our teachers with science classes and prepared the students for the annual academic decathlon that year." 
 Anfone's desire to serve did not go unnoticed at the parish. 
 "I see in him a man of God," said Fr. Nwachukwu. "He was present to the people by accompanying them in different ministries like the Filipino Ministry, and took the time to teach our altar servers." 
 Anfone said he benefitted a great deal from his internship experience. 
 "People welcomed me and loved seeing a seminarian, seeing a hope in the Church. That really was touching for me," he said. "I didn't deserve it and it showed that it's not me, that it's God showing them that here I am and am blessing all of you and I'm also being blessed. The people really taught me how to be a priest." 
 Anfone's large extended family in Hawaii and Canada are excited at the prospect of having a priest in their family and are making travel plans to attend his Ordination. 
 In next month's BYTE we will chronicle the vocational journeys of seminarians Alex Rodarte and Juan Sandoval as they prepare for Ordination.
---
 Malie Hudson is a freelance writer based in Riverside.